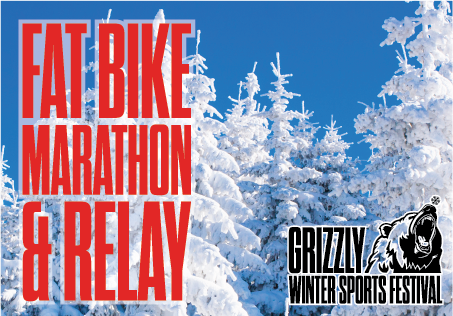 GRIZZLY Fat Bike Marathon & Relay
EVENT WEBSITE: http://www.grizzlyevents.ca/grizzly-fat-bike-marathon—relay.html
​EVENT DATE: February 18, 2018, Canmore, AB.
Features:
START TIME 09:00 a.m.
36km Solo or Two Person Relay Categories
9km X 4 Lap Course Includes The Very Best Fat Bike Single Track At The Canmore Nordic Centre
Finish Line Snacks
Grizzly Paw Soda​​​​
Grizzly Souvenir Item
​Chip Timing
World Class Former Olympic Venue
Highly Qualified Medical Team​​​
FAT BIKE RENTALS  –  need a ride ?
Rebound Cycle  of Canmore strives to have the best working rental fleet possible and additional offerings to make your winter rental a success. Their winter rentals include industry leading fat bikes from Salsa in a variety of sizes. All bikes come equipped with studded tires for traction and safety. They also offer Bar-Mitt & light rentals at an additional charge. Book well in advance for the Grizzly Fat Bike race weekend.
​Click here for more info.
Regular – Jan 01 – Jan 31        Solo  $80       2 Person Team  $140*
Late – Feb 01 – Feb 17             Solo  $100     2 Person Team  $180*
*Team prices are per team not per person. Prices are subject to additional 5% GST.
Canmore Nordic Centre Fat Biking Guidelines
Fat biking is not permitted on groomed cross-country ski trails except where crossings are necessary.Fat biking is permitted on a signed section of Centennial cross-country ski trail ONLY to provide access to our EKG East race loop.Stay to the left on this ski trail. DO NOT ride in the machine-made tracks.Fat bikers must yield to skiers at all ski trail crossings.Cross ski tracks at a perpendicular angle. Avoid mixing dirt riding with snow riding.
​
Only "fat bikes" (with tires measuring 3.7 inches wide or wider) are permitted.
Bikes with regular mountain bike tires are not permitted as narrow tires are more likely to leave deep ruts in groomed trails.